HOW TO CANOE OVER MOUNTAINS
Dear Crosswalkers,
One of the books I'm reading is Canoeing the Mountains, which is a book on Christian Leadership for the 21st century.
Here's one of the illustrative principles that comes from the famous expedition of Merriweather Lewis and William Clark. This was the first American expedition to cross westward through the Rocky Mountains to the Pacific Coast. Ostensibly, they were searching for the famous Northwest Passage. President Thomas Jefferson made it clear that "the object of your mission is single, the direct water communication from sea to sea." However, that dream shattered when, on August 12, 1805, Lewis reached the Continental Divide at Lemhi Pass and saw, instead of any waterway, "immense ranges of high mountains still to the west of us." The "geography of hope" was destroyed by the "geography of reality," according to one historian. The primary purpose of their expedition would be unrealized. You can imagine their disappointment.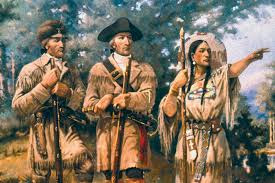 However, this turned out to be a beautiful moment. Instead of turning back they traded their canoes for horses and proceeded on (they couldn't have done this without their Indian translator and guide, a young woman with her baby named Sacagawea – but that's a story for another time).
The way to canoe through the mountains when you have no waterway is to get horses!
It was a major paradigm shift that involved seeing the big picture and the larger purpose for their expedition. It involved "thinking outside the box." It involved redefining some of their initial goals but faithfully and relentlessly pressing ahead.
The church is facing just such a moment in these days. The topography of faith in America, and in the Silicon Valley, is rapidly changing. Secularism is on the rise. Commitment to faith institutions is on the decline. The cultural shifts in America over the past 20 years have been astounding.
What is required of faithful people is to press on. The apostle Paul wrote "I press on toward the goal for the prize of the upward call of God in Christ Jesus" (Philippians 3:14 ESV). But we must develop new paradigms for reaching our community and the world with the good news. We must be adaptable to the new social realities. Again, this is the apostle Paul being remarkably flexible. "…I have become all things to all people so that by all possible means I might save some" (1 Corinthians 9:22 NIV).
At Crosswalk, this means we must try new ways to reach young families and provide for their spiritual needs. It means we must find new ways to welcome new residents in our area and find new ways to prepare our youth and our children for a life of faith in the midst of tumultuous change. Our call is to press forward to the upward call of God and invite others to join us.
To make this happen we need spiritual entrepreneurs to help us think outside the box and develop new strategies. You are invited to be a part of this adventure. New ideas are welcomed. New ways of ministry and service are desired. Please be in prayer and let any of our leadership team know of your ideas and ways in which you can help. Great change brings great opportunities. We are in it together. It will be an exciting adventure forward!
Many blessings as we press on together,
Pastor John